Andermatt is a mountain village (with about 1,400 inhabitants) in central Switzerland, located in the canton of Uri, at an altitude of 1437 m above sea level, approx. 35 km south of Altdorf

, the capital of the canton of Uri, 12 km north-east of the St. Gotthard pass

(➤ map)(➤ map). Tourist destination, ski resort.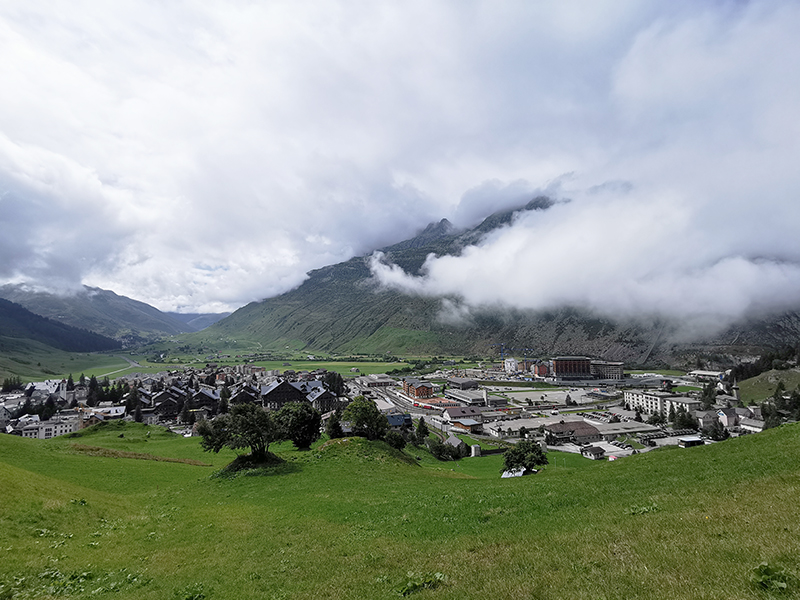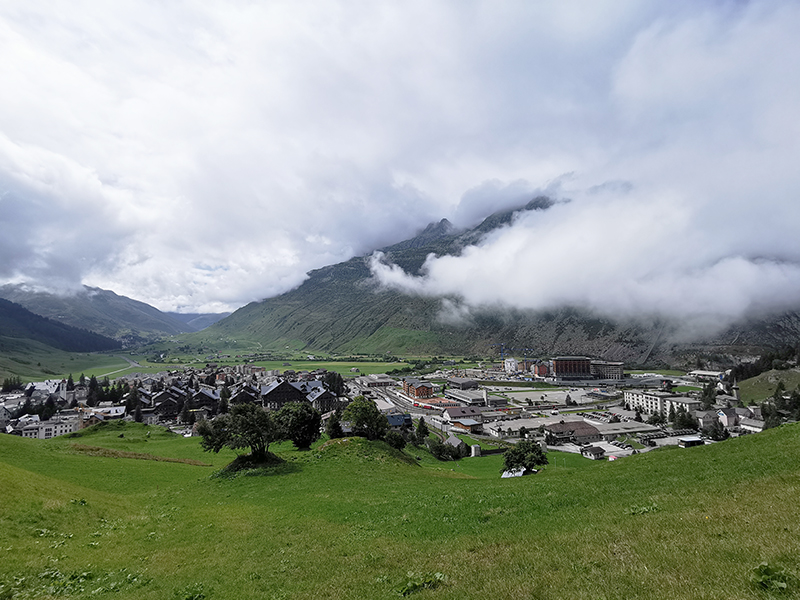 ANDERMATT
view from road no. 19 leading to the road pass
Oberalppass
(2044 m)
fot. PL
Andermatt is situated on the northern outskirts, and the municipality of Andermatt in the center of the St. Gotthard massif, an alpine range stretching on the border of the cantons of Graubünden, Ticino, Valais / Wallis and Uri, bounded by passes
St. Gothard

(2108 m),
Lukmanier

(1916 m),
Oberalp

(2044 m),
Furka
(2429 m) and
Nufenen

(2478 m), with the highest peaks Pizzo Rotondo

(3192 m), Pizzo Centrale

(2999 m) and Piz Gannaretsch

(3,040 m). On the north side of this massif, from the southwest to the northeast, runs road 19 from
Brig
in the Canton of Valais / Wallis to the junction with road 13 near
Chur
, the capital of Graubünden. To the west of Andermatt runs road 2, leading from Göschenen

) through the St. Gotard pass, to Airolo

in the Canton of Ticino.
The tourist significance of Andermatt is historically associated with the proximity of the St. Gotthard and the role of the town as the last stop before the pass on the transalpine route leading from the north to the south, made available for stagecoaches in the 1820s. Today, when car traffic is almost entirely served by the motorway running through the tunnel under the St. Gothard pass, starting in Göschenen and ending in Airolo, Andermatt no longer has the same importance as it used to be (although plans to expand and transform the village into a larger tourist center have been prepared for some time). At the moment, however, the main tourist attractions in the Andermatt area (apart from the St. Gotthard Pass, which many tourists still visit) are: (1) Schöllenen

- the picturesque gorge of the river Reuss between Göschenen and Andermatt, with the famous bridge called Teufelsbrücke, built in its present shape in the 1820s, and (2) a network of attractive, well-prepared and marked hiking trails of varying difficulty.
In winter, the Andermatt-Oberalp-Sedrun ski area operates in the Andermatt region, located at an altitude of 1444-2600 m above sea level, partly in the canton of Uri, partly in the canton of Graubünden, offering a total of approx. 120 km of slopes of various difficulty levels and almost 20 lifts, including four areas, two of which are in the immediate vicinity of Andermatt, one to the southwest of Andermatt, in Hospental, and one to the east of Andermatt, in the Oberalp Pass area. These areas are not directly linked to each other; the expansion of the ski infrastructure to eliminate this drawback is one of the elements of the above-mentioned plans for the development of Andermatt as a tourist center.
more information in preparation